Healthy Chicken Tortilla Soup is made with tender chicken, crispy tortilla strips, veggies, and herbs in a deliciously spiced broth. An easy, healthy soup that combines so many fresh Mexican flavors!
We love having Mexican soups at our house. This Instant Pot chicken tortilla soup and ground turkey taco soup is another winner!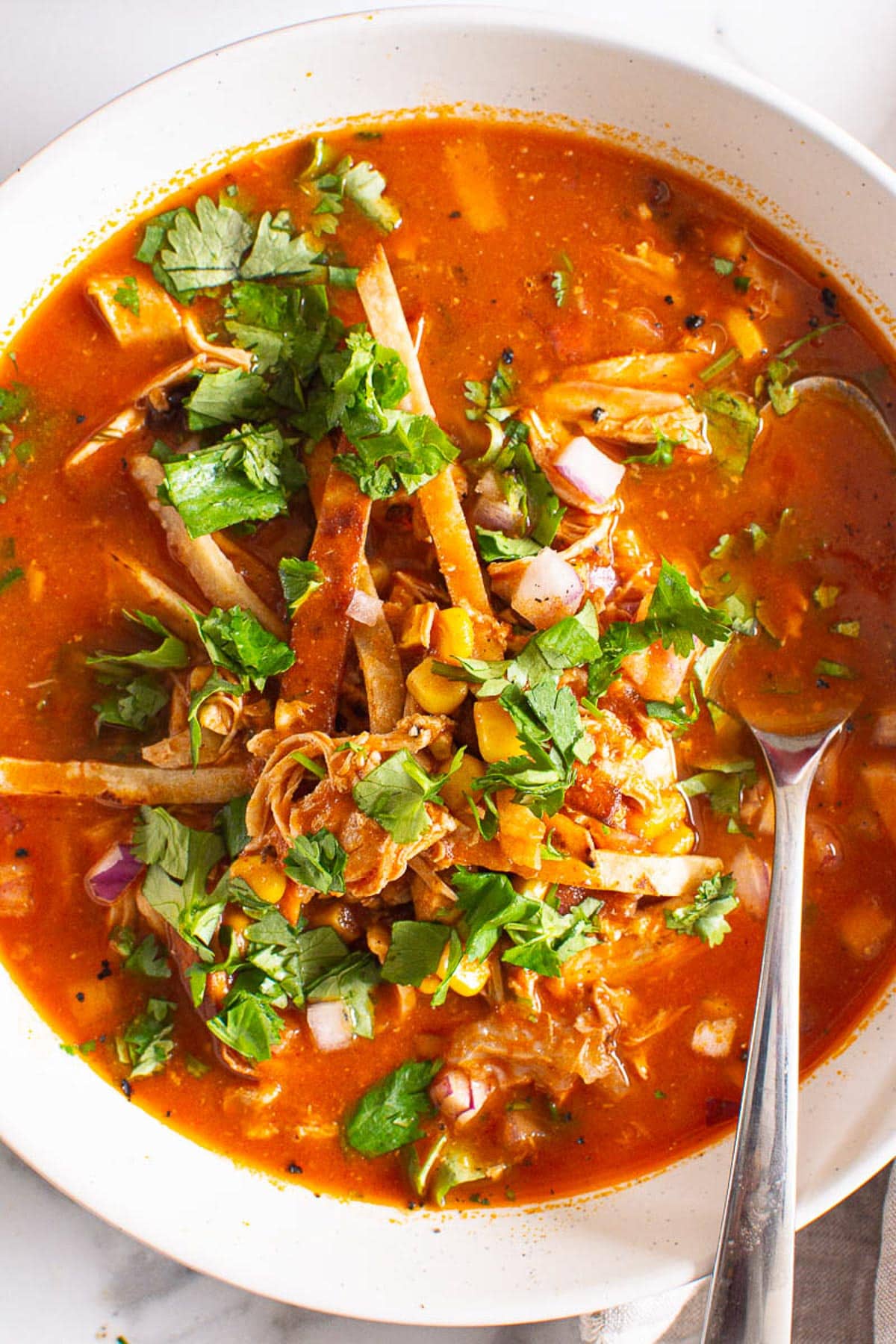 This healthy chicken tortilla soup is an easy one pot meal. It's a great dinner idea on a busy weekday and even better as leftovers the next day.
Whether you serve this healthy soup recipe on its own or with a side of Mexican street corn salad, the anticipation of that first spoonful is something you will look forward to again and again!
Ingredients for Healthy Chicken Tortilla Soup
To make this version of chicken tortilla soup recipe, you will need very simple ingredients. The list might seem long but many are fridge and pantry staples.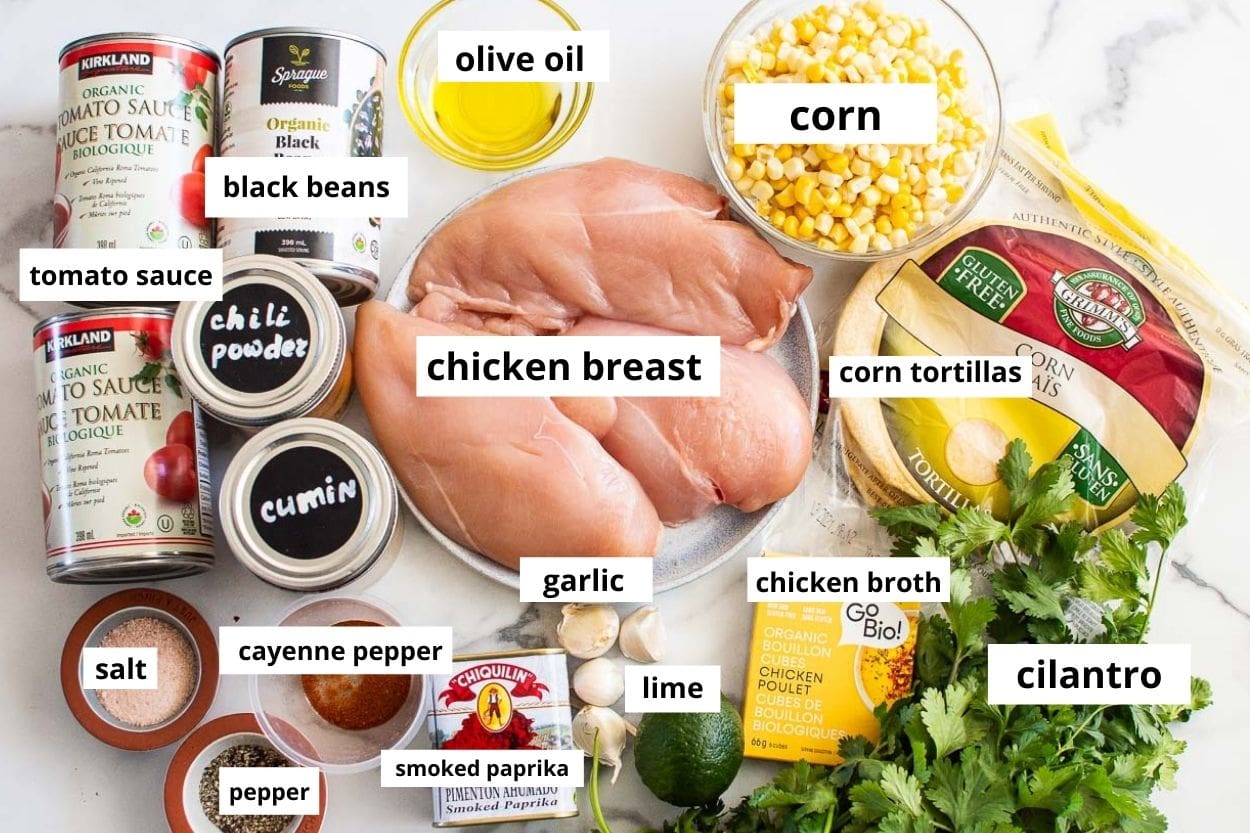 Chicken: Can use either boneless skinless chicken breasts or chicken thighs.
Black beans: Low sodium black beans, rinsed and drained. You can use canned beans, Instant Pot black beans or here is a guide how to cook dried beans at home.
Corn: Canned corn, frozen corn or fresh corn will work. Also leftover Instant Pot corn on the cob or crockpot corn on the cob are great options too and eliminate food waste.
Tomato sauce: Low sodium tomato sauce from a can. If using regular and not low sodium sauce, add less salt. Save salting the soup step till the very end.
Chicken broth: Low sodium chicken stock or chicken broth. Just like with tomato sauce, if you use regular one, add salt at the every end of cooking, to taste.
Tortillas: Corn tortillas, cut into thin strips, to make tortilla strips for topping. Corn tortillas are more thick and hearty than wheat tortillas. You can also use store-bought tortilla strips.
Seasonings: Smoked paprika, cumin, chili powder, salt, cayenne pepper.
Oil: Whatever cooking oil you have on hand for frying veggies and tortillas. I use avocado oil, olive oil is always a good choice too.
Garlic: Fresh garlic cloves, minced.
Garnishes: Fresh cilantro, lime, red onion, and avocado.
How to Make Healthy Chicken Tortilla Soup
Here is a quick overview how to make healthy chicken tortilla soup in one pot. Find instructions how to make homemade tortilla strips right down below. Full recipe card is located at the end of this post as well.
Saute the aromatics and chicken: Preheat large Dutch oven or heavy bottom pot on medium heat. Add a bit of oil and saute minced garlic in it for 30 seconds. Stir often as it burns quickly. Add chicken, smoked paprika, cumin, chili powder, salt, and cayenne pepper to the pot and cook until slightly brown. Stir a few times.
Add remaining ingredients: Pour chicken broth, tomato sauce, corn, and black beans into the pot. Stir, then cover and bring to a boil.
Cook the soup: Reduce heat to low and simmer chicken tortilla soup to allow the flavors to blend nicely. About 20 minutes is all it takes.
Shred the chicken: Remove chicken breasts onto a plate to shred with two forks. Chicken should be nice and tender and fall apart easily. Return the shredded chicken back to the pot. Stir to combine and serve hot with optional garnishes.
How to Make Homemade Tortilla Strips
If you have time, I highly recommend to make your own tortillas strips at home because it's so easy. They come out more authentic, flavorful and healthier than store-bought tortilla strips.
You can make them first in same Dutch oven or heavy bottom pot you will be cooking soup in, before cooking the soup.
All you have to do is cut corn tortillas into thin strips.
Then heat the pot on medium heat and add 1 tablespoon of oil. Add tortilla strips and cook them until golden brown. Stir often to avoid burning. Then set aside on a plate.
Tips for Best Results
Adjust heat and smokiness to your taste: Instead of smoked paprika and cayenne you can use 2 tablespoons of chipotle in adobo sauce or taco seasoning. Although this is mild spicy soup you can always adjust your seasonings to your taste preferences.
This recipe is versatile: Keep in mind that it's one of most forgiving soups and you can use whatever ingredients you have on hand. Please see Variations section below.
To thicken the soup: Mix 3 tablespoons of soup liquid with 2 tablespoons of cornstarch to make a slurry. Then add it to the pot and simmer for a few minutes until soup has thickened.
Make it creamy: You can make creamy chicken tortilla soup by adding some cubed cream cheese or sour cream at the end. For healthier option, add Greek yogurt but do so off the heat, so it won't curdle. I also recommend to mix a small amount of soup with yogurt in a bowl first and then add to the pot.
Variations
Chicken: Any part of the chicken works! Chicken thighs and chicken breasts are great and boneless is more convenient, but you could also use chicken drumsticks and cook them a bit longer. You can also use leftover shredded rotisserie chicken.
Black beans: Substitute pinto beans instead.
Roasted corn: I use frozen corn, no need to thaw. Canned corn works as well. If you're taking niblets right off the cob, try roasting your corn first. The charred smokiness from the roasted corn will add another layer of flavor.
Tomato sauce: Passata or crushed tomatoes will work. It's generally the same as tomato sauce. You can also use diced tomatoes pulsed in a blender. Rotel might be something else to try!
Broth: If you don't have any chicken broth, feel free to use water and more spices to taste. I have done this many times.
Diced green chilies: Always a welcome addition in Mexican dishes.
Best tortillas: I recommend using corn tortillas rather than wheat. You can also use tortilla chips, crushed right in the soup to thicken it, or a basket of chips on the side for munching and dipping.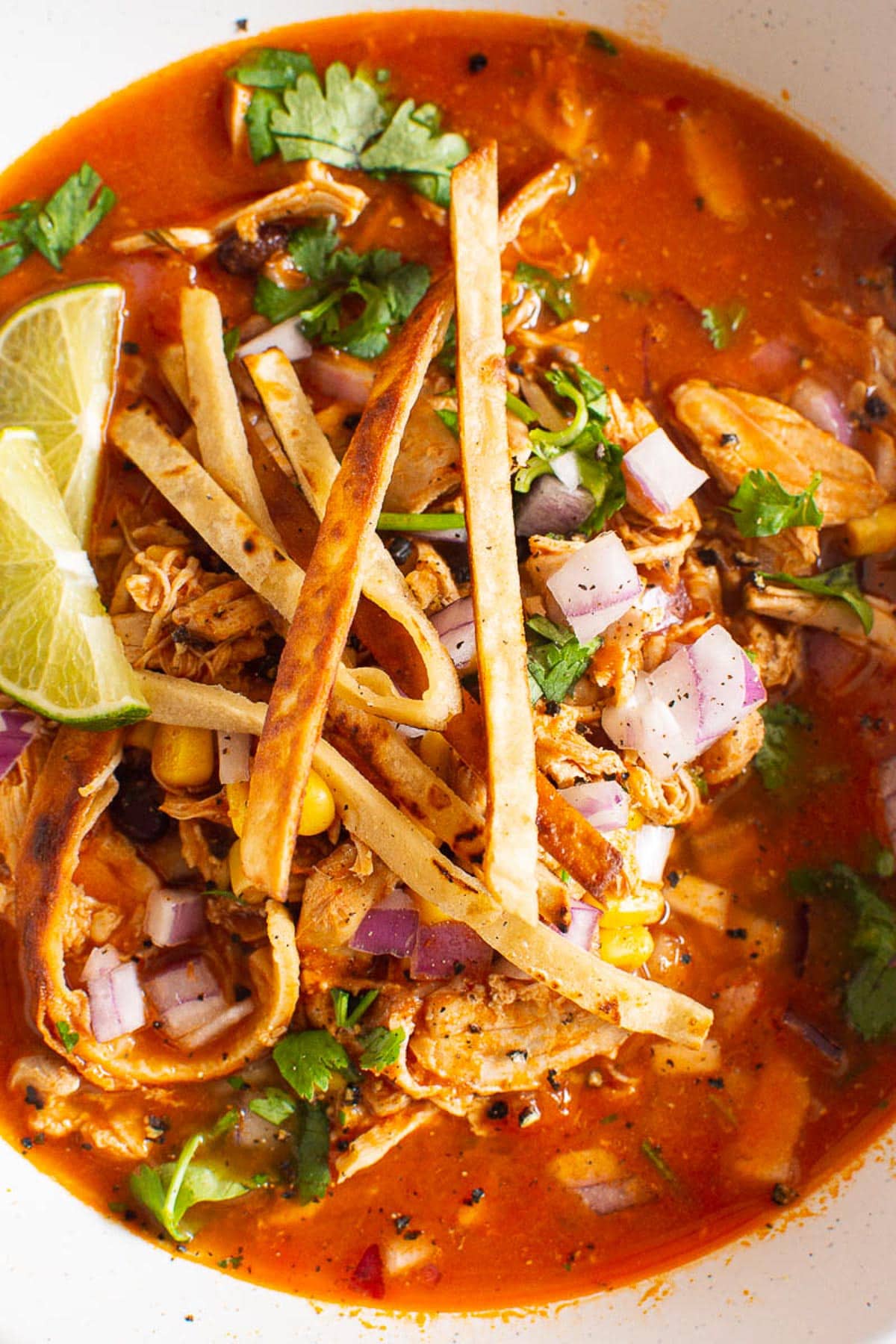 Favorite Toppings for Chicken Tortilla Soup
When it comes to serving any of Mexican recipes, I like to use what I have on hand for toppings. Use what you like but make sure not to forget the tortilla strips! They make this soup taste next level.
Here are a few of our other favorites:
Lime: Freshly squeezed lime juice adds a nice zesty flavor to the soup.
Cilantro: I love cilantro and it's a must for me in all of Mexican dishes.
Jalapeno: Add chopped jalapeno with seeds to each bowl for extra heat.
Avocado: Diced avocado at the end or a dollop of easy guacamole makes this soup more creamy while still dairy-free.
Yogurt: A dollop of Greek yogurt or sour cream makes this soup wonderfully creamy.
Cheese: Shredded Mexican cheese, Tex-Mex cheese or sharp cheddar cheese will melt in the soup and make it uber delicious.
Tortilla strips: Chicken tortilla soup is not a tortilla soup without tortilla strips. They are amazing crunch! You can also add crushed tortilla chips.
How to Store and Reheat
Store: Refrigerate soup leftovers in an airtight container or right in the pot for up to 5 days. It's one of those soup recipes that gets even better with each day.
Freeze: Freeze in airtight containers, portioned out for easy thawing and reheating, if you wish. This soup is fantastic for meal prep! Freeze it for up to 3 months. Thaw in the fridge overnight and then your soup is ready to reheat.
Reheat: To reheat the soup, ladle desired amount into a small pot and simmer on low heat covered. It should take about 5-10 minutes.
FAQs
Can I make this soup in slow cooker?
Sure. Saute the veggies and spices in a skillet, then transfer to a large slow cooker with remaining ingredients. Cook soup on low heat for 6-8 hours or on High heat for 3-4 hours. Then shred chicken, return to the crock pot and serve. Don't forget to cook tortilla strips in the skillet as well.
How is this chicken tortilla soup healthy?
Chicken tortilla soup can be quite a healthy soup option. It is loaded with lean protein from chicken, and vitamins, fiber and complex carbohydrates from vegetables and beans. Choose low sodium chicken broth, tomato sauce and beans to keep sodium in check. This soup is also gluten-free and dairy-free.
More Soup Recipes to Try
You may also love these 65 healthy chicken recipes!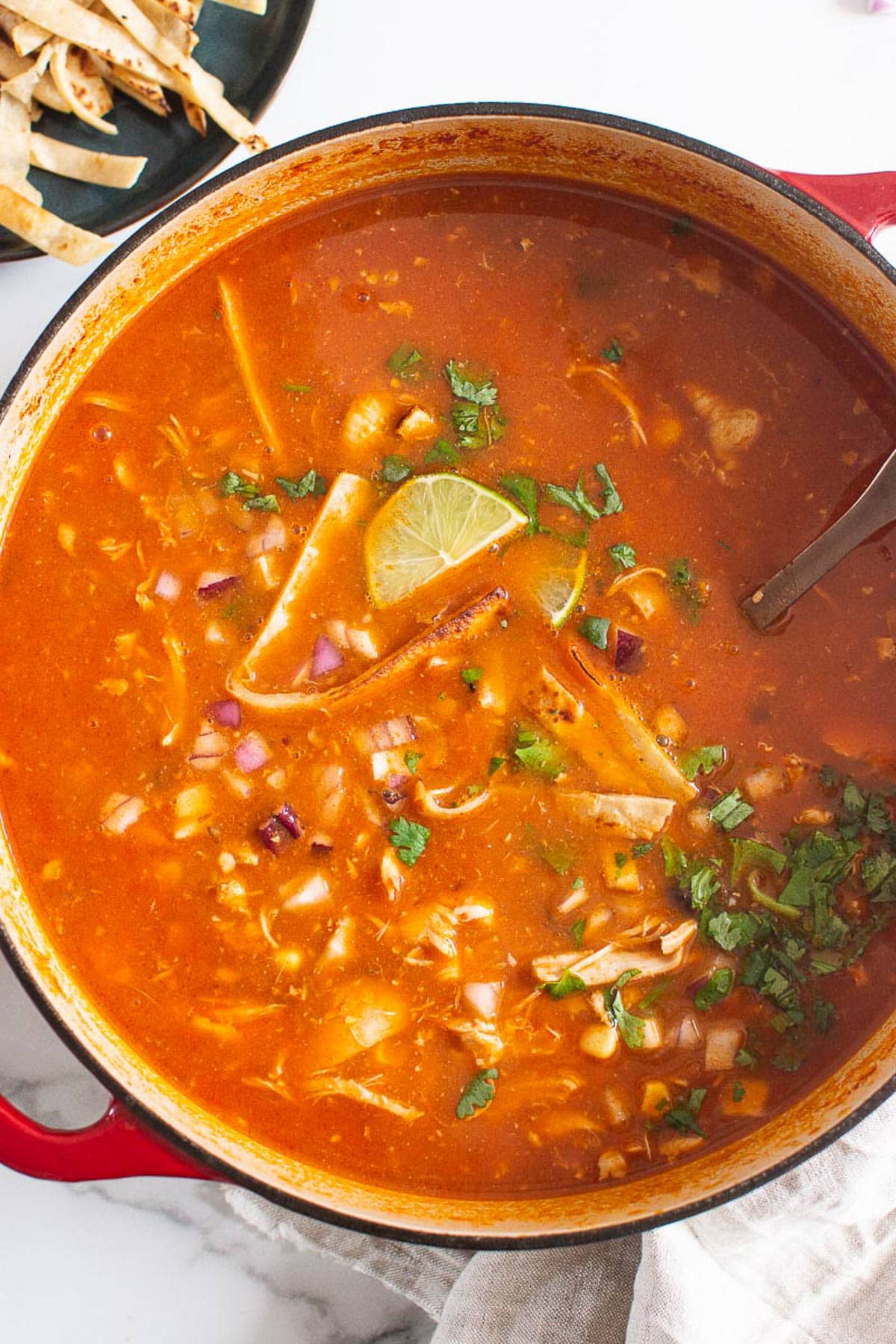 Healthy Chicken Tortilla Soup
Healthy Chicken Tortilla Soup with tender chicken, beans, and crispy tortilla strips in delicious spiced broth. One pot meal perfect for busy weeknights!
Instructions
Preheat Dutch oven or large pot on medium heat and swirl 1 tablespoon of oil to coat. Add tortilla strips and cook until golden brown, stirring often. Remove onto a plate and set aside.

Add remaining 1 tablespoon of oil and garlic, saute for 30 seconds, stirring frequently.

Add chicken, smoked paprika, cumin, chili powder, salt and cayenne. Cook for 5 minutes or until browned a bit, stirring a few times.

Add broth, tomato sauce, corn and black beans. Stir, cover and bring to a boil. Reduce heat to low and simmer for 20 minutes.

Open the lid, remove chicken onto a plate, shred with 2 forks and return back to the pot.

Stir and serve hot with tortilla strips and garnishes.
Notes
Store:

Refrigerate in an airtight container or right in the pot for up to 5 days. Reheat by simmering on low heat in a small stove pot. Shouldn't take more than 5-7 minutes.

Freeze:

Freeze in an airtight container

for up to 3 months. Thaw in the fridge overnight.
Nutrition
Serving:
1.75
cups
|
Calories:
346
kcal
|
Carbohydrates:
31
g
|
Protein:
30
g
|
Fat:
8
g
|
Saturated Fat:
1
g
|
Cholesterol:
73
mg
|
Sodium:
678
mg
|
Fiber:
6
g
|
Sugar:
5
g