This Spaghetti Squash Quiche recipe swaps the usually pastry-heavy crust for a lighter spaghetti squash crust. Then we pack it with vegetables, a little cheese and a lot of flavor!
You can even omit the crust entirely like we do in crustless broccoli quiche, crustless spinach quiche and zucchini quiche recipes.
There is everything delicious about the balsamic veggies filling and nothing traditional about the crust of this spaghetti squash quiche.
The idea of a spaghetti squash crust is similar to cauliflower pizza crust recipe – cooking vegetables first and then squeezing liquid out a bit.
The filling idea came from my balsamic grilled vegetables and the crust from spaghetti squash quiche with kale and mushrooms. It is not my idea to make a spaghetti squash quiche crust but it is my execution of it.
Why You'll Love This Recipe
Cleans out the fridge: You make the filling with eggs, cheese and whichever vegetables you got on hand. I used leftovers of zucchini and bell peppers from making baked chicken and peppers and broccolini from ground turkey and potato skillet.
Not difficult to make: This recipe is not as labor intensive as you might think, the longest part is waiting for the squash to bake.
Holds its shape: Each slice actually stays in shape and doesn't go soggy, like you'd think!
Ingredients for Spaghetti Squash Quiche
From the low carb crust to the rich egg filling, this spaghetti squash quiche is made with very simple ingredients.
Spaghetti squash: The most flavorful winter squash. You'll need 1 medium squash around 2.5 pounds.
Eggs: 6 large eggs form the center of the dish and are an excellent source of protein.
Sautéed vegetables: Sautéed onion and bell pepper add a sweet caramelized flavor. You'll need 1 onion and 1 bell pepper, any color.
Oil: Whichever oil you like to use for frying, I used avocado oil.
Other vegetables: I used zucchini, broccoli, cauliflower, and tomatoes but really any combination will work. I've listed some recommendations below.
Cheese: A delicious combination of cheddar cheese and feta. Freshly shredded will melt easier and taste better.
Balsamic vinegar: Adds a rich and tangy flavor that's also slightly sweet.
Seasonings and herbs: Salt, garlic powder, and dried basil.
Cooking spray: To prep your baking dish, I use Misto.
How to Cook Spaghetti Squash
My favorite methods for making spaghetti squash noodles for quiche is to bake spaghetti squash whole in the oven or to make air fryer spaghetti squash.
I find Instant Pot spaghetti squash is a bit too watery to form a proper quiche crust.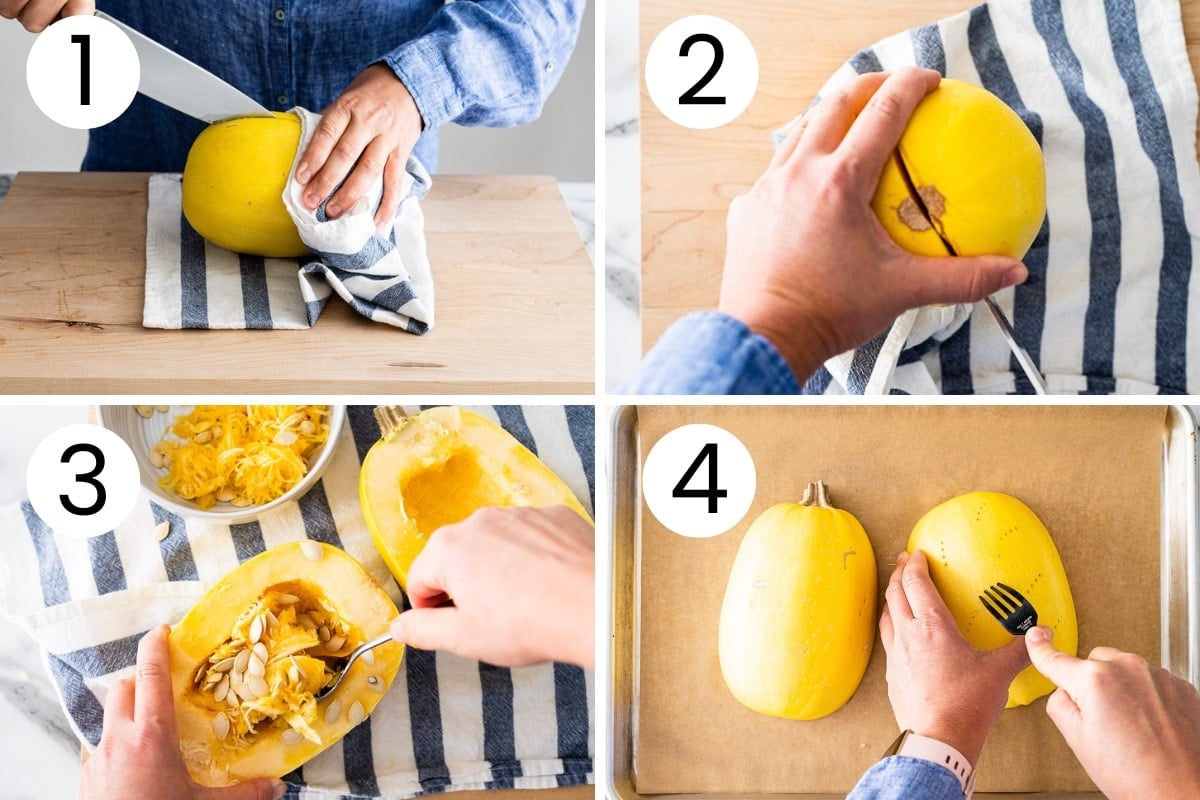 Preheat your oven to 400 F.
Cut spaghetti squash: Use a sharp knife to carefully cut the squash in half lengthwise. Here's a quick guide and some helpful tips for how to cut spaghetti squash.
Remove seeds: Line a baking sheet with parchment paper. With a large spoon, scoop out the seeds and place each half cut side down on the prepared baking sheet.
Bake: Poke some holes in the skin with a fork so the steam can escape while they cook. Bake for 30 minutes and set aside to cool.
How to Make Spaghetti Squash Quiche
Here's an overview of how to make the crust, combine the filling, and assemble. Just like the photos show, spaghetti squash pie is a lot easier than you think.
There is a full recipe card below.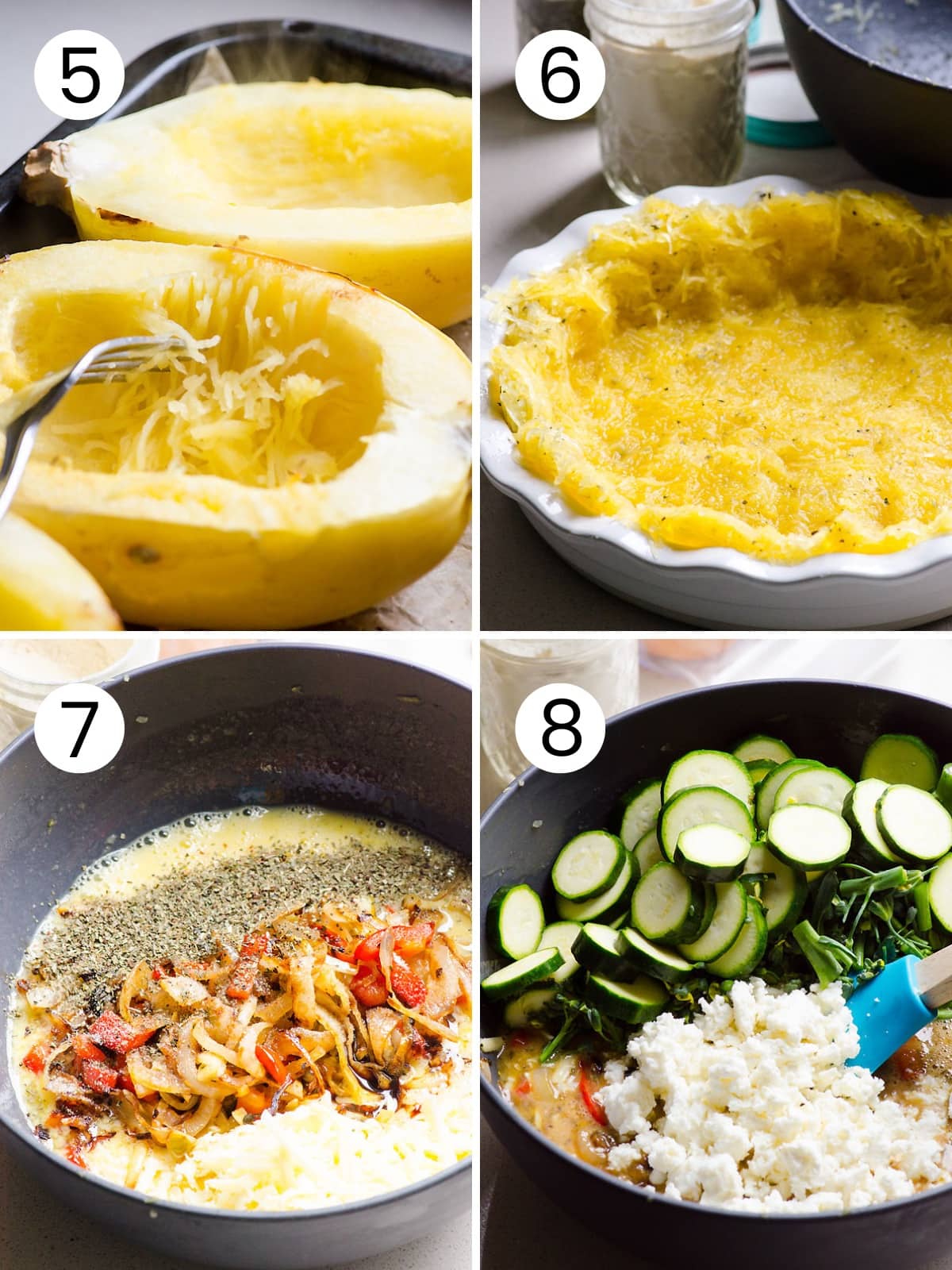 Shred spaghetti squash: Use a fork to scrape the interior into "strands", then add the strands to a medium bowl and season with salt. Use your hands to squeeze out some liquid, return to the bowl, sprinkle with dried basil and garlic powder then mix to combine.
Form the crust: Pour squash mixture into a greased pie pan. Using your hands once more, press evenly on the bottom and sides and set aside while you make the filling.
Sauté onion and peppers: Preheat a non-stick skillet on medium heat and coat with oil. Sauté onion and bell pepper for 5 minutes until golden brown.
Make the egg mixture: To a large mixing bowl, add eggs, balsamic vinegar, dried basil, and salt. Whisk to combine. Next, add in cheddar cheese, feta cheese, sautéed onion and bell pepper, and fresh zucchini, broccoli, cauliflower and tomatoes, then stir to combine.
Bake: Pour the mixture over the squash crust and level with a spatula. Bake in preheated oven for 50 minutes or until a knife inserted in the center comes out clean.
Serve: Let the quiche cool for at least 30 minutes before slicing and enjoy hot or cold.
Tips for Best Results
These 5 helpful tips and tricks will help you make the best squash quiche with vegetables.
Don't over bake spaghetti squash: It can make tender squash strands watery, al dente squash noodles are the best.
Salt and squeeze cooked squash: Salt helps draw out extra moisture so you can squeeze it out, this is important because it helps prevent a soggy spaghetti squash crust.
Submerge veggies in eggs: Mix the vegetables well into the egg mixture, so they don't dry out during baking.
Cool before slicing: Your kitchen smells amazing and you want to dig in, but the quiche will taste much better once it has cooled. In that 30 minutes the inside will continue to cook and the outside will cool a bit and be perfectly warm and ready to eat.
Add protein: Cooked bacon, ground sausage, diced ham, ground beef, even seafood. As long as the meat is fully cooked before adding to the quiche, you can customize it with anything you like!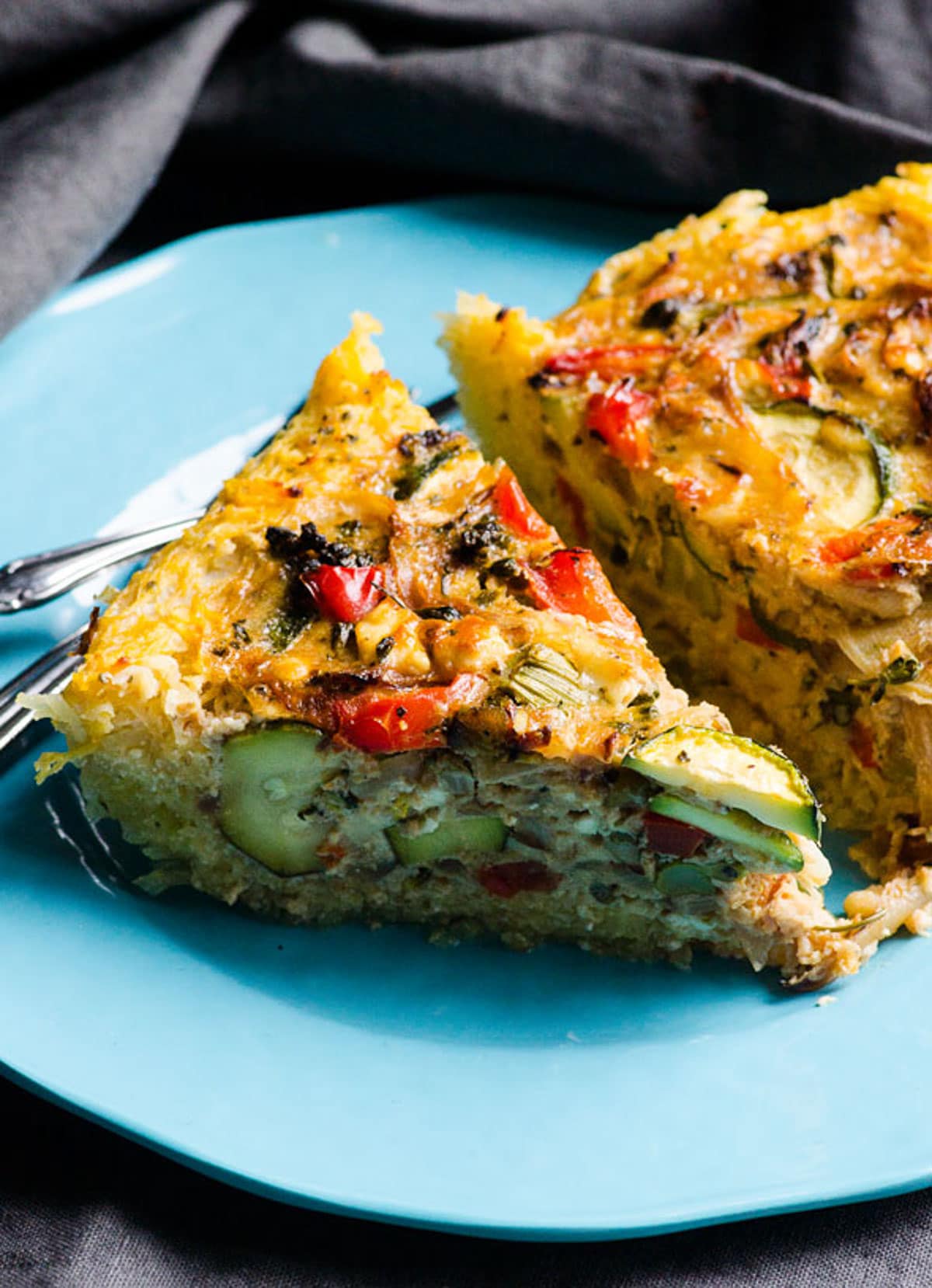 What Are the Best Vegetables to Use?
You can pretty much use any vegetable you have on hand or create your favorite combination for a loaded vegetable quiche that's naturally gluten-free and good for you.
When swapping vegetables, make sure the total quantity stays about the same.
Spinach
Asparagus
Mushrooms
Eggplant
Peas
Brussel sprouts
Green beans
Avocado
Kale
Sun-dried tomatoes
Serving Spaghetti Squash Quiche
Spaghetti squash quiche can be served warm or cold, as a main dish or a side dish, the options are endless!
For breakfast or brunch we love pairing it with either my grandma's Ukrainian breakfast potatoes or a side of fruit salad and a healthy muffin. I also like to serve leftovers with pancakes or waffles.
Alongside a crisp salad or soup makes a quick lunch or dinner for your family or guests. Anything from a simple green salad, pasta salad, or classic chicken salad would be delicious.
Can I Make It Ahead of Time?
Yes. As for the crust, you can cook spaghetti squash the night before, so when you're ready to make the crust it's going to be nice and cool. I also have to say it's easier to separate spaghetti squash into noodles while it's still warm.
You can also pre-make spaghetti squash quiche crust, then cover baking dish with plastic wrap and refrigerate for up to 48 hours.
You can even sauté and store vegetables in an airtight container for up to 2 days. Same goes for freshly chopped vegetables and grated cheese. Then combine veggies with egg mixture and cheese when ready to bake.
How to Store
Store: Refrigerate in an airtight container for up to 4 days.
Freeze: I find the texture to be off once thawed, so I personally do not recommend freezing.
FAQs
Can I make it dairy free?
Flavor wise, you can use some nutritional yeast or vegan cheese. Texture wise, spaghetti quiche without cheese might not hold as well but maybe it's fine too.
Should vegetables be cooked before adding to this quiche?
I like to cook onions and bell peppers for more flavor. I also recommend to sauté mushrooms, if using. Other vegetables you can add fresh.
Do I have to pre bake the crust?
Yes. In order to make a flavorful outer shell that holds its shape, you need to bake it before adding the filling.
Why is my spaghetti squash quiche soggy?
Most likely from not squeezing cooked spaghetti squash well, spaghetti squash was over baked at the beginning, or used too many high water content vegetables in the filling.
More Spaghetti Squash Recipes
More Quiche Recipes to Try
Spaghetti Squash Quiche with Vegetables
Spaghetti Squash Quiche swaps the pastry crust for a light spaghetti squash crust. Packed with vegetables, a little cheese and a lot of flavor!
Instructions
Preheat oven to 400 degrees F. Cut squash in half, scoop out the seeds and place cut side down on a baking sheet lined with parchment paper. Poke skin randomly with a fork and bake for 30 minutes. Remove from the oven and set aside to cool until safe to handle.

Using a fork, separate spaghetti squash into strands and add to a medium bowl. Sprinkle with 1/4 teaspoon salt and mix. Using your hands, squeeze out liquid a bit. Return to the bowl along with 1/2 teaspoon dried basil and 1/2 teaspoon garlic powder and mix to combine.

Spray deep pie dish with cooking spray and transfer squash mixture into it. Using your hands, press evenly on the bottom and sides. Set aside.

Preheat ceramic non-stick skillet on medium heat and swirl oil to coat. Add onion and bell pepper; sauté for 5 minutes or until golden brown, stirring occasionally.

Meanwhile in a large bowl, add eggs, balsamic vinegar, 1 teaspoon dried basil and 1/4 tsp salt and whisk. Add cheddar cheese, feta cheese, sauteed onion and bell pepper, and fresh zucchini, broccoli, cauliflower and tomatoes. Stir well to combine.

Pour mixture into prepared crust and level with spatula. Bake for 50 minutes or until the knife inserted in the center comes out clean.

Let quiche cool down for at least 30 minutes. Cut into 8 slices and serve hot or cold.
Notes
Store: Refrigerate in an airtight container for up to 3 – 4 days. Do not freeze.
Nutrition
Serving:
1
slice
|
Calories:
210
kcal
|
Carbohydrates:
19
g
|
Protein:
11
g
|
Fat:
11
g
|
Saturated Fat:
6
g
|
Cholesterol:
143
mg
|
Sodium:
439
mg
|
Fiber:
4
g
|
Sugar:
6
g