Spaghetti Squash Quiche with kale and mushrooms is baked in a light spaghetti squash crust and made extra flavorful with a creamy cheese blend.
You will also love this spaghetti squash quiche with balsamic vegetables!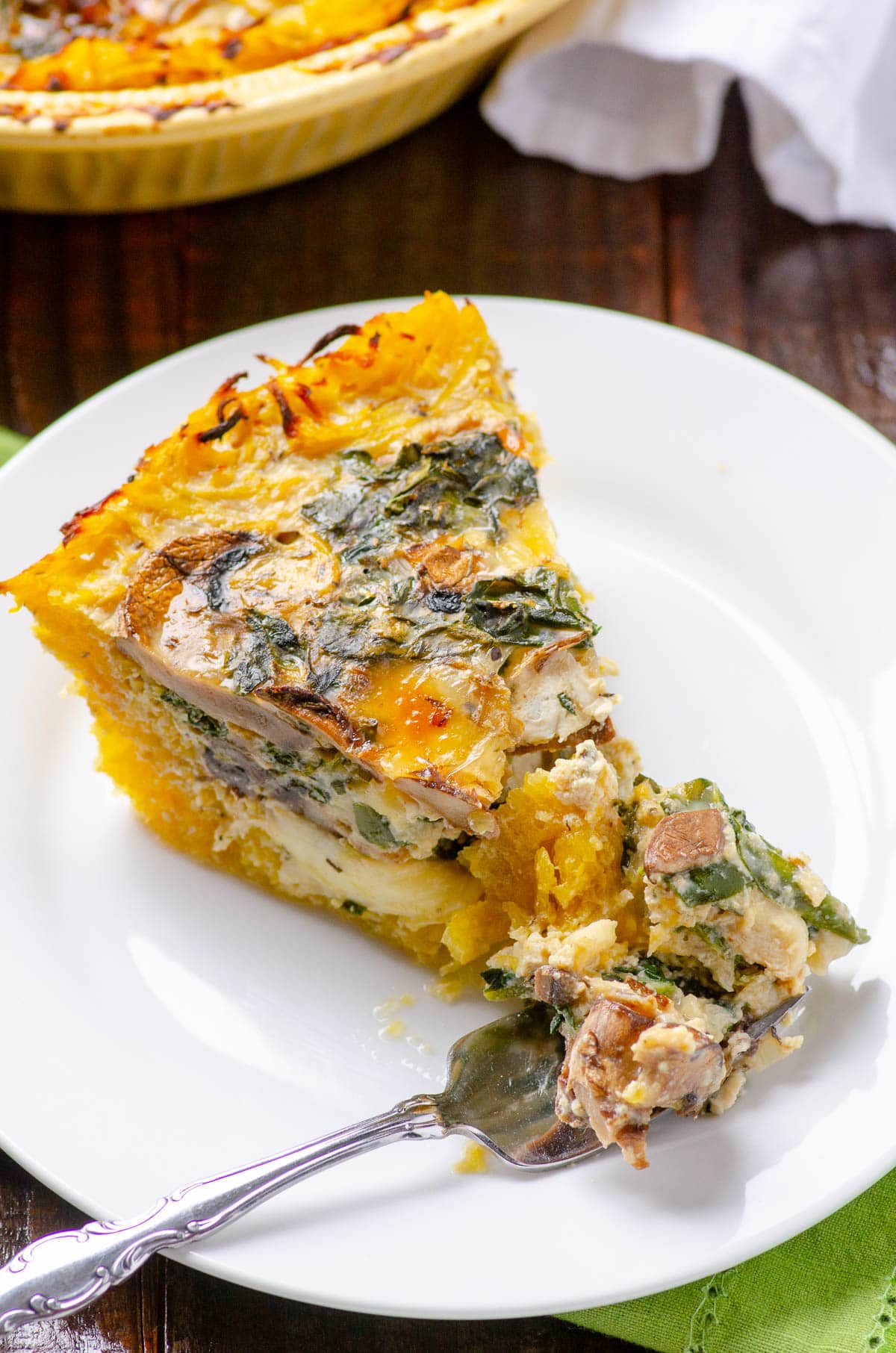 Spaghetti squash is a vegetable with a noodle-like flesh and a slightly sweet taste.
It can easily replace pasta in a casserole like spaghetti squash casserole, make a low carb noodle boat like these stuffed spaghetti squash boats, and now form a crust in this meaty and delicious gluten-free spaghetti squash quiche. Why not?!
Why You'll Love This Recipe
Relatively easy recipe: You don't have to squeeze the liquid out or worry about any extra steps. Once pressed in a pie plate, spaghetti squash noodles easily replace traditional flour crust without extra carbs.
Delicious: Cheesy, meaty, and so full of flavor, it melts in your mouth. Warm or cold, I love it both ways. I'm a huge fan of mushrooms and combined with leafy greens like kale, you can't go wrong. This combination will blow your mind!
Lighter: Besides swapping traditional crust for a spaghetti squash one, I replaced some cheese with cottage cheese and swapped a few eggs with egg whites. More protein and less fat.
Classic taste: You won't miss any cheese in this healthy spaghetti squash pie.
Ingredients for Spaghetti Squash Quiche
You'll need a handful of nutritious ingredients and a few simple spices to make this spaghetti squash quiche recipe.
Spaghetti squash: The main ingredient for the low-carb, gluten-free crust. Pick a medium sized squash around 2.5 pounds.
Brown mushrooms: I like brown mushrooms for their deep, earthy flavor. Choose from portobello, cremini, or shiitake mushrooms.
Kale: Adds a healthy dose of greens to your meal. I used dinosaur kale (also known as lacinato kale).
Eggs and egg whites: The filling is made with 2 large eggs and 1 cup of egg whites.
Aromatics: Caramelized onion and fresh garlic add flavor and aroma to the dish.
Cheese: Shred 1 cup of your favorite cheese. I used a 3 cheese Italian blend but mozzarella, cheddar, gouda or Swiss cheese also compliment mushrooms and kale nicely.
Cottage cheese: A bit of low fat cottage cheese adds a creamy texture and ups the protein.
Seasonings and herbs: Onion powder or garlic powder, salt, pepper, and dried thyme.
Cooking spray: I like Misto.
How to Make Spaghetti Squash Quiche with Kale and Mushrooms
Homemade mushroom kale quiche is a three-part recipe – the crust, the filling, and the assembly. It looks complicated but it's an easy weekend meal, trust me!
Scroll down for the full recipe card.
Start off by cutting and baking some squash. If you need a refresher, I have posted a full series about how to cut open spaghetti squash.
For this recipe, you need a bit undercooked squash. I recommend to bake spaghetti squash halves or make air fryer spaghetti squash in air fryer. The longer the squash cooks and if the process involves steam, the more liquid it releases. And we don't want to end up with a hot mess as the quiche bakes with a filling inside.
Then form a crust with your hands. Just press spaghetti squash noodles to the sides and bottom of a pie dish. I used a deep pie dish but regular one will work just fine. I added a few spices to the crust as well. Nothing complicated – salt, ground black pepper and thyme.
Then sauté your mushrooms until they are nice golden brown color, just enough to release the excess liquid. Transfer to a bowl.
Then sauté the kale. I added spices to kale on purpose, do not skip this important step to an aromatic spaghetti squash quiche. Trust me, I tested this recipe 3 times.
Whisk eggs, cottage cheese, cheese and spices together. Then mix kale and mushrooms with the liquids, just until combined.
Pour into the crust and press with spatula to dunk all vegetables in the liquid. This way the veggies won't dry out as the quiche rises. You could even open the oven after 20 minutes of baking and press again.
I baked my spaghetti squash pie for 50 minutes. Check with a knife and if it comes out clean, your quiche is ready.
Like with any casserole or pie, let it cool to ensure proper slicing, about 30 minutes. You might have to lift the edges of the crust with a knife a bit. Alternatively, you could spray the pie dish edges with cooking spray before adding the ingredients to it.
Tips for Best Results
These top tips help make this vegetable quiche so delicious, everyone will be excited for breakfast.
Cook spaghetti squash al dente: If overcooked, the squash strands can become too watery. To form a firmer crust, the squash noodles need to be al dente. I don't recommend to bake whole spaghetti squash or make spaghetti squash in Instant Pot.
Be sure vegetables are covered: Kale and mushrooms should be fully submerged in the egg mixture, so they don't dry out.
Cool quiche before cutting: That little bit of cooling time allows the inside to cook more, the outside to cool, and the flavors to "marry" each other. Your quiche will be perfectly warm, taste better, and be easier to slice.
About cottage cheese: Do not worry, cottage cheese will melt and incorporate with other ingredients beautifully. It will not curdle and you will not taste it.
Serving Suggestions
Delicious mushroom kale quiche can be served any time of day! It's an easy make ahead brunch recipe, a savory breakfast to serve your guests, a veggie-loaded lunch, and a light dinner.
If you like fruit in the morning, serve it alongside a zesty fruit salad, healthy apple bread, or a small bowl of quinoa granola with fresh fruit.
For a fuller meal, serve with oven roasted sweet potatoes or a simple side salad like simple butter lettuce salad.
How to Store
Store: Refrigerate covered, or transfer to an airtight container for 3 or 4 days.
Freeze: I do not like to freeze this vegetable quiche leftovers, in my experience the texture is off once thawed.
FAQs
Can I replace egg whites with eggs?
Yes, you can use 6 large eggs total and omit the egg whites. You can also just take a measuring cup and fill up with cracked eggs until 1 cup is reached to replace 1 cup egg whites.
Can I make it dairy-free?
Yes, you can use any melting dairy-free cheese instead of regular cheese. To replace cottage cheese, use 2-3 extra eggs and the quiche should set.
Can I use spinach instead of kale?
Yes, feel free to substitute an equal amount of spinach. Keep in mind it won't need as much sautéing time at the start as it wilts faster.
What else can I use instead of mushrooms?
If you don't have mushrooms on hand or don't like them, I recommend sautéed bell peppers instead.
Does the crust get crispy?
No. The spaghetti squash quiche crust will be firm and hold its shape but it will not get crispy.
More Quiche Recipes to Try
More Spaghetti Squash Recipes
Spaghetti Squash Quiche with Kale and Mushrooms
Spaghetti Squash Quiche with kale and mushrooms is baked in a light spaghetti squash crust and made extra flavorful with a creamy cheese blend.
Ingredients
For the Crust:
Instructions
Preheat oven to 400 degrees F. Cut squash in half, scoop out the seeds and place cut side down on a baking sheet lined with parchment paper. Bake for 30 minutes, remove from the oven and set aside to cool.

Meanwhile, preheat large skillet on high heat and spray with cooking spray. Add mushrooms and saute for 5 minutes or until golden brown, stirring occasionally. Transfer to a medium bowl.

Return skillet to medium-high heat and spray with cooking spray. Add onion and garlic and cook for 2 minutes, stirring frequently. Add kale, 1/2 teaspoon thyme, 1/4 teaspoon salt and 1/4 teaspoon pepper and saute until kale is wilted. Transfer to a bowl with mushrooms and set aside.

To make the crust, separate spaghetti squash into strands with a fork. Add to a medium bowl along with thyme, onion powder and salt, and mix to combine. Transfer to a deep pie dish and press evenly on the bottom and sides using your hands. Set aside.

In a large bowl, combine eggs with egg whites and whisk for 30 seconds. Add cheese, cottage cheese, previously cooked mushrooms and kale, 2 teaspoons onion powder, 1 teaspoon thyme, 1/4 teaspoon salt, 1/2 teaspoon pepper and mix to combine.

Pour into prepared crust and flatten with spatula to make sure all vegetables are covered with liquid. Bake in 400 degrees F oven for 50 mins or until the knife inserted comes out clean.

Let quiche cool down for at least 30 minutes. Cut into 8 slices and serve hot or cold.
Notes
Store: Refrigerate covered for up to 3 – 4 days. Do not freeze.
Nutrition
Serving:
1
slice
|
Calories:
179
kcal
|
Carbohydrates:
15
g
|
Protein:
14
g
|
Fat:
8
g
|
Saturated Fat:
4
g
|
Cholesterol:
60
mg
|
Sodium:
497
mg
|
Fiber:
3
g
|
Sugar:
6
g