This Healthy Alfredo Sauce recipe is light, creamy, and takes less than 10 minutes to make. Serve it over your favorite pasta for a quick meal.
I use almost same version to make my healthy chicken alfredo and Instant Pot chicken alfredo.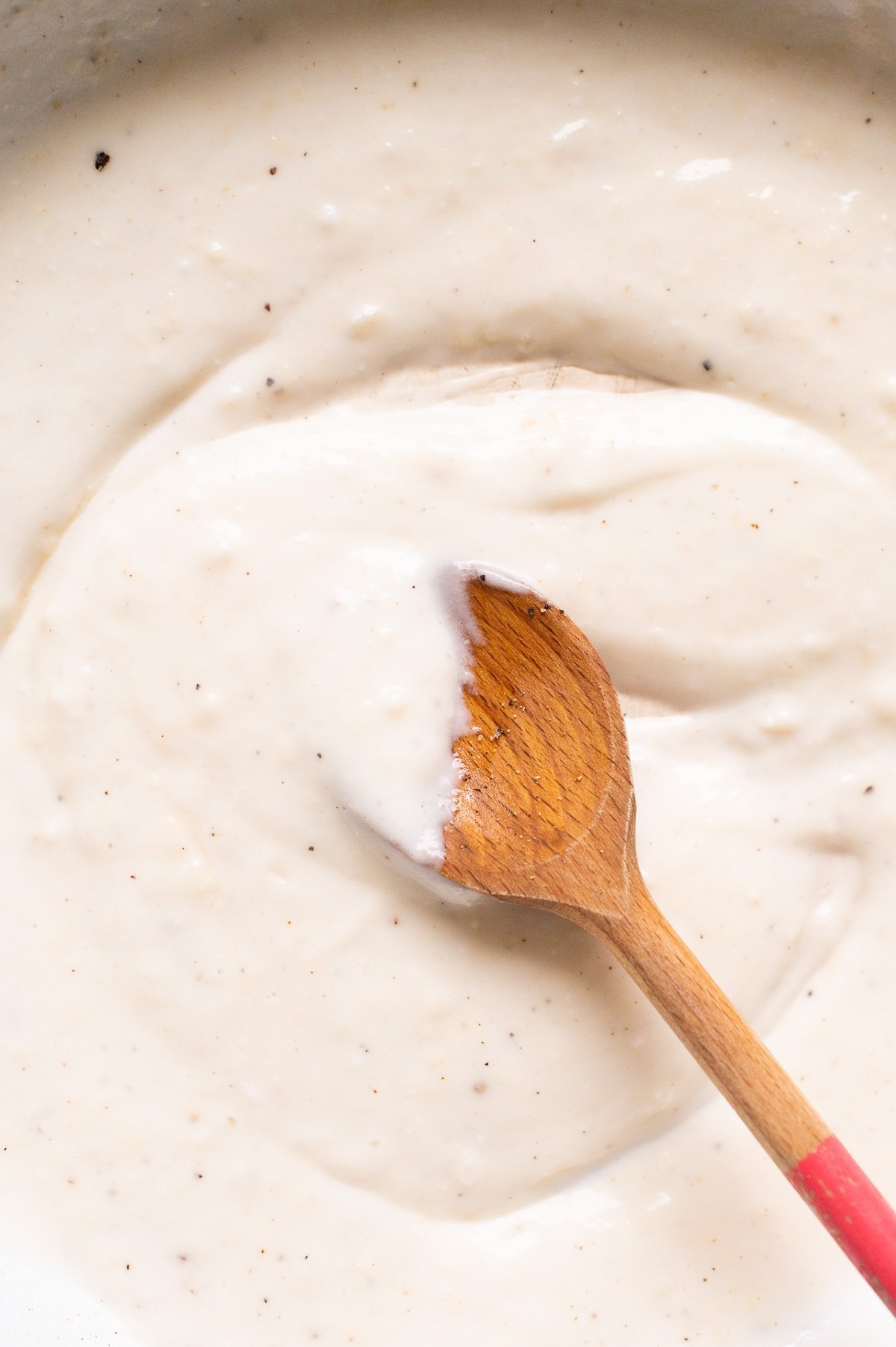 I do like classic alfredo sauce because it's delicious and I enjoy it when in restaurants and in Italy, but for everyday cooking I like to make healthy alfredo sauce so I can enjoy all the flavor without the calories!
Once you make this Greek yogurt alfredo sauce, you'll love how versatile it is. I originally made it for spaghetti squash chicken alfredo, but it also pairs well with pasta, pizza, and casseroles.
Why You'll Love This Recipe
It tastes "regular": The texture is silky smooth, and it's just as rich and cheesy as regular alfredo.
It's much lighter: No butter or heavy cream in this lightened-up version. A few ingredient swaps makes this healthy sauce recipe low calorie and low fat.
Easy: A short list of simple ingredients means you can ditch the store-bought jars for good.
Quick: This sauce comes together in 5-7 minutes. You can quickly whip it up while the pasta is boiling, then toss together for an easy weeknight healthy dinner.
Ingredients for Healthy Alfredo Sauce
You'll need 8 simple ingredients, including salt and pepper, to make this healthy alfredo sauce.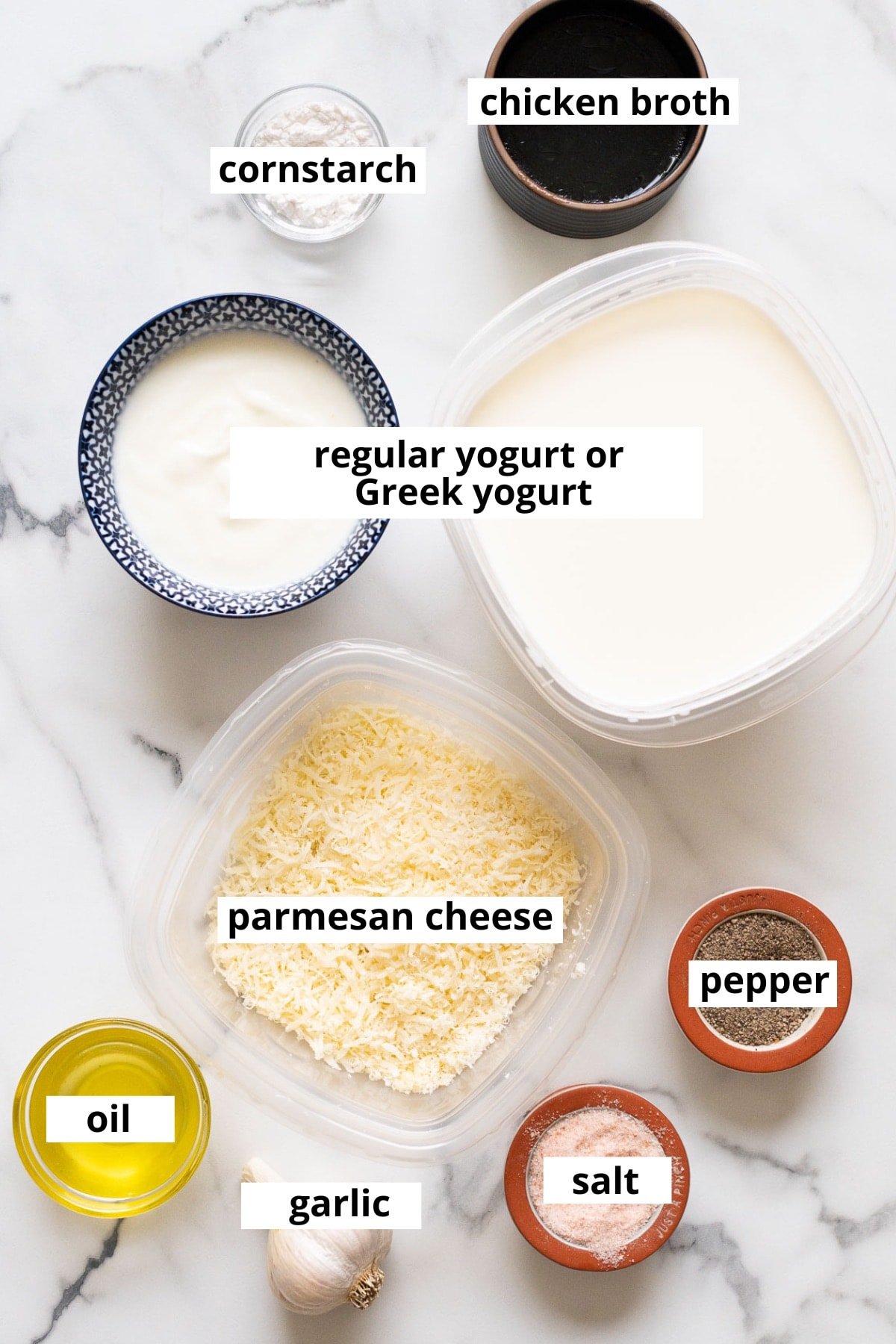 Garlic: The savory note of freshly minced garlic adds to the indulgent taste.
Oil: I prefer olive oil or avocado oil for sautéing the garlic.
Chicken broth: Use low sodium chicken broth or chicken stock.
Cornstarch: A thickening agent is needed to thicken the sauce.
Parmesan cheese: Freshly grated Parmesan cheese is best for flavor and texture. The pre-shredded packaged cheese has anti-caking agents which prevent it from melting nicely.
Greek yogurt: Yogurt keeps the sauce thick and creamy without the need for butter, heavy cream, or cream cheese. Not to mention, it has lots of protein! If you don't have Greek yogurt, plain yogurt works as well.
Spices: Salt and pepper to taste.
How to Make Healthy Alfredo Sauce
Here's a quick overview of how to make a healthier alfredo sauce at home using one pan.
There is a full recipe card below.
Sauté garlic: Preheat a large non-stick skillet on medium heat with a bit of oil to coat. Add garlic and sauté until fragrant, stirring frequently, so the garlic doesn't burn.
Start alfredo sauce: To the same pan, add chicken broth, cornstarch, salt, and pepper. Whisk until smooth and bring to a boil. Then reduce heat and simmer until the sauce has thickened a bit.
Melt the parmesan cheese: Remove from heat, add the parmesan cheese, and whisk well until the cheese has melted.
Finish the sauce: Stir in the yogurt and gently mix until smooth. You're done! Serve hot over your favorite noodles or transfer to a jar and store for up to 5 days.
Tips for Best Results
Here are a few tips to follow when making healthy alfredo sauce.
Use fresh Parmesan cheese: Grate it yourself from a block, the small bits and pieces add a salty bite, so good!
Salt pasta water: This sauce isn't very salty but salting the water will season the actual pasta, adding another depth of flavor to the entire dish.
Add pasta water if needed: If you feel the sauce is too thick, slowly stir in pasta water until you've reached your desired consistency.
Add yogurt off the heat: Both yogurt and cheese should be added to the pan off the heat, otherwise it will curdle.
Whisk and stir well: After each step make sure to stir constantly to avoid lumps.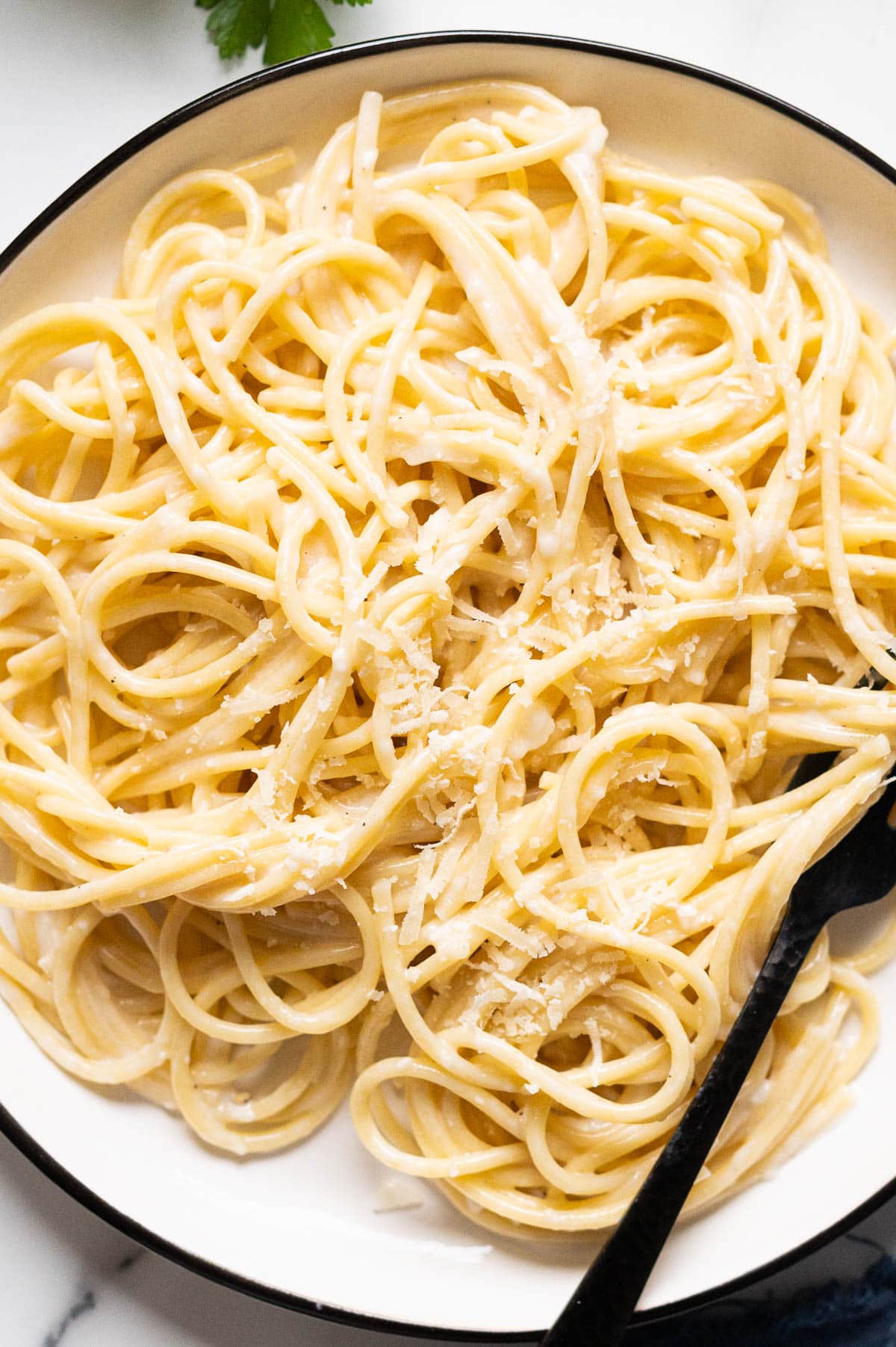 What to Serve Alfredo Sauce With?
Pasta: The most popular, obvious choice is to enjoy a big comforting bowl of fettuccine alfredo, or really any type of pasta garnished with more parmesan, pepper, and fresh parsley.
Low carb noodles: Keep it low carb with spaghetti squash noodles or zoodles.
Add protein and veggies: Top your noodles with chicken or shrimp, and mix in some vegetables like peas, broccoli, and spinach.
Substitute for marinara sauce: Use healthy alfredo sauce instead of marinara sauce in dishes that do not require prolonged baking time over 10 minutes. Otherwise alfredo will curdle.
Cheese sauce: Dip or cover your favorite veggies in this delicious cheesy sauce. Use it to make alfredo mac and cheese (add sauce at the end to avoid curdling).
Recipe Tip
Because this alfredo sauce is made with yogurt, it will curdle if baked for too long. Use it in recipes where you can add it off the heat or with baking time no longer than 10 minutes.
Storage and Reheating Tips
Store: Pour cooled alfredo sauce into a jar or airtight container, it will stay fresh in the fridge for up to 5 days.
Freeze: Do not freeze. The cheese and yogurt will separate after thawing, this sauce is best enjoyed fresh and it's super easy to make!
Reheat: You can quickly reheat the sauce in the microwave or let it simmer on low heat with a splash of milk. If heating in a small pot, be sure to stir constantly so it doesn't burn.
FAQs
Is Alfredo sauce good or bad for you?
Traditional alfredo sauce is made with lots of butter, cream, and cheese, therefore contains a high calorie and fat content. This homemade alfredo sauce is much healthier!
What can I use instead of yogurt?
You can use an equal amount of sour cream, but calories will be higher.
Can I make it dairy-free?
Yes, you can make it dairy-free with dairy-free plain yogurt and vegetarian parmesan cheese.
What can I use instead of cornstarch?
You can swap cornstarch for the same amount of arrowroot powder, or with 4 teaspoons of all-purpose flour or gluten-free flour.
What can I replace Parmesan cheese with?
According to Bon Appetit, Pecorino, Piave, or Grana Padano are the best substitutes because they have a similar sharp, salty taste as parmesan cheese. I recommend tasting it first, you might want to adjust the amount used.
More Healthy Sauce Recipes to Try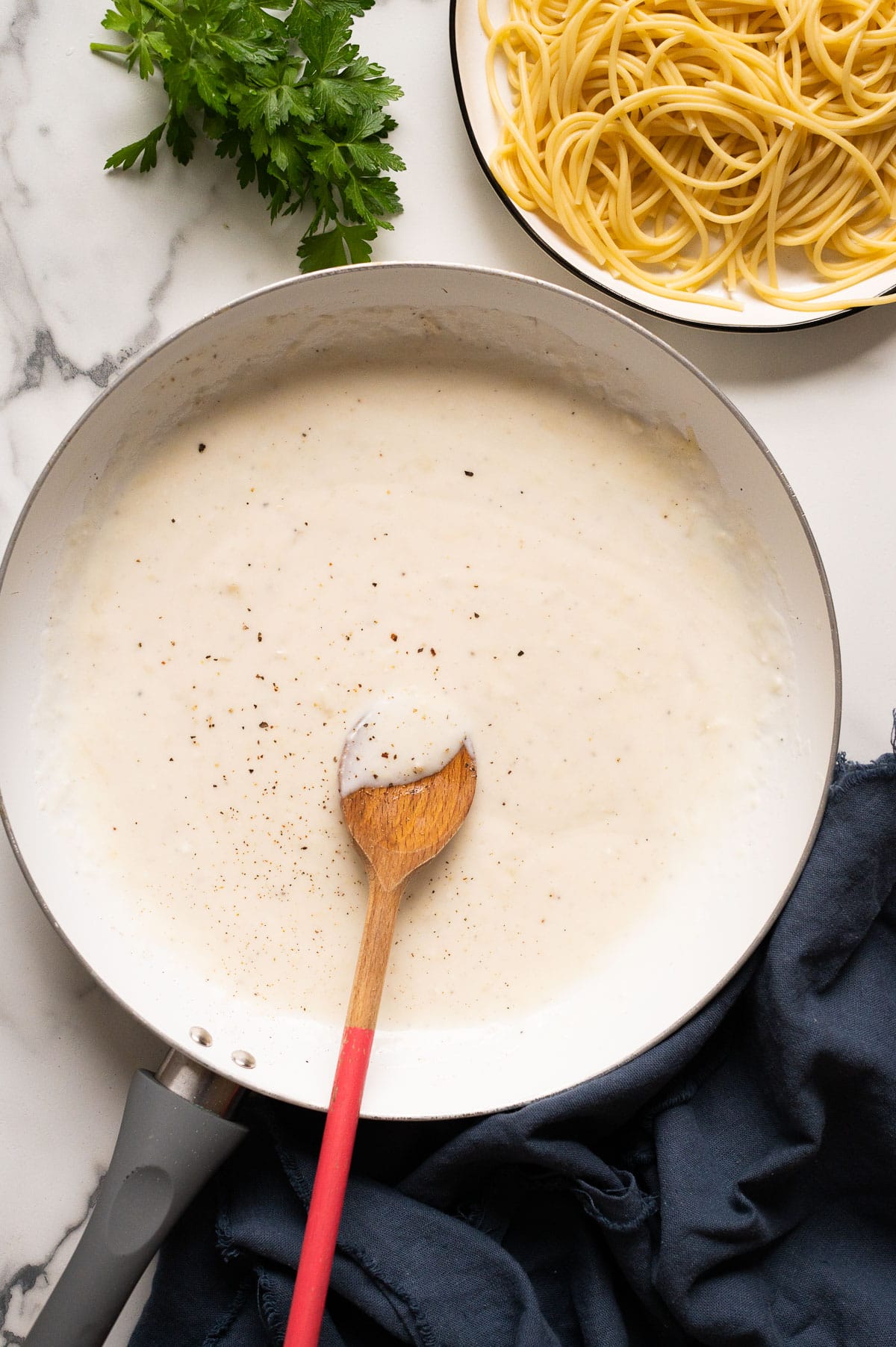 Healthy Alfredo Sauce
Healthy Alfredo Sauce recipe is light, creamy, and takes less than 10 minutes to make. Serve it over your favorite pasta for a quick meal.
Instructions
Preheat large skillet on medium heat and add oil. Add garlic and saute for 1-2 minutes or until fragrant, stirring frequently.

Add chicken broth, cornstarch, salt, pepper and whisk until smooth. Bring to a boil, reduce heat to low and simmer for a 1-2 minutes until sauce has thickened a bit.

Remove skillet from heat, add Parmesan cheese and whisk until smooth and cheese has melted.

Add yogurt and stir again until smooth. That's it, serve with noodles or chicken.
Notes
Store: Refrigerate in an airtight container for up to 5 days.
Freeze: I don't recommend to freeze this alfredo sauce because often milk, cheese and yogurt separates after thawing. Enjoy fresh and it's quick to make.
Reheat: Reheat in a microwave or by simmering on low heat in a small pot with a splash of milk, stirring constantly so it doesn't burn.
Nutrition
Serving:
0.25
cup
|
Calories:
82
kcal
|
Carbohydrates:
3
g
|
Protein:
5
g
|
Fat:
6
g
|
Saturated Fat:
2
g
|
Cholesterol:
10
mg
|
Sodium:
353
mg
|
Fiber:
0.1
g
|
Sugar:
2
g